Arturo Fuente Cigars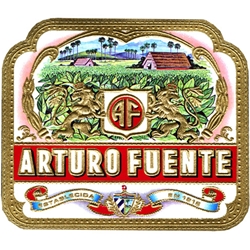 Each time you open a box of Arturo Fuentes hand rolled premium cigars, you'll not only be overwhelmed with an amazing fragrance of a perfectly handcrafted premium cigar, but you'll also get a glimpse into the long storied tradition that has brought these famed hand rolled cigars to legendary status.
Four generations have witness the handcrafted excellence of Arturo Fuentes Cigars. This esteemed premium cigar company has for year after year demonstrated their mastery in the art of producing the highest quality hand rolled premium cigars in the world. Dating back to its beginning roots in the 19th century with founder Carlos Fuente, Sr. up to present day, with production that's still going strong at the family's private estate plantation in the Dominican Republic, Chateau de la Fuente. The Fuente family still grows and harvests their own tobaccos that incorporate every filler, binder and wrapper in each of their hand rolled premium cigars.
Arturo Fuentes Cigars present every cigar smoker with a library of cigar styles and sizes that is one of the largest selections in the industry. You can choose from a wide variety of wrappers from the various Cigar Series listed below. Whether you prefer the spicy richness of the Cameroon leaf or the smooth fullness of the U.S. Connecticut Broadleaf. You can find an Arturo Fuentes Cigar of your liking right here at our discount hand-rolled premium cigar store. Call us for more details!