Quick Guide to Legally Buy Hemp Cigarettes | Smokers Discounts
(6/14/2020)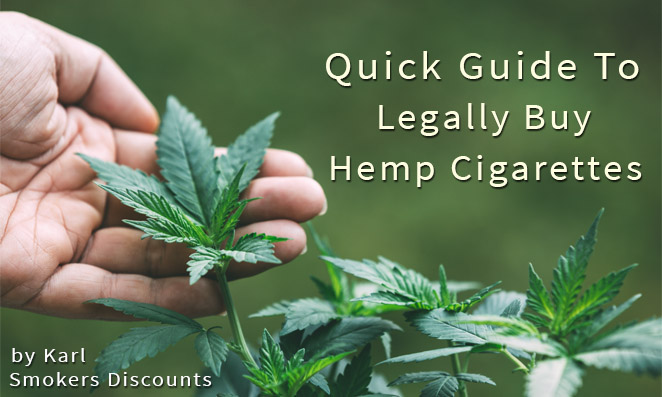 Author: Karl
Published: June 14, 2020
Today, hemp is grown across the U.S. by hemp farmers who harvest the crops for the sole purpose of producing cannabinoids, such as CBD. But, as hemp usage gains popularity, red flags have been raised due to the similarity's hemp has to its counterpart, marijuana.


Simply put, hemp and marijuana plants look remarkably similar. A person with an untrained eye could mistake one from another, as the flowers have comparable appearances, smell and can be rolled and smoked in the same fashion.

Because of the distinct features of the two plants, issues have arisen with law enforcements in various states, as officers are finding it difficult to determine the differences between a rolled hemp bud and a marijuana joint and to know whether or not the product being used is considered legal or illegal.

Main Issues
Hemp vs Marijuana, Legal or Illegal?
Hemp and Marijuana are categorized as Cannabis, which is the genus of flowering plants related to the Cannabaceae family.

• "Hemp", or "Industrial Hemp" is categorized as a non-intoxicating (Cannabis sativa). Hemp is one of the fastest growing plants, grown and harvested specifically on Hemp farms for the industrial use of its derived products.
Hemp became legal under the 2018 Farm Bill which removed hemp from the definition of marijuana in the Controlled Substances Act (CSA). The bill legalized the sale of hemp and defined it as any part, byproducts or derivatives of cannabis that contain 0.3% or less THC content (by dry weight).

• "Marijuana" is categorized as the greenish-gray mixture of the dried flowers of (Cannabis sativa) that contains more than 0.3% THC (by dry weight). The delta-9-tetrahydrocannabinol (THC) found in Marijuana is the main psychoactive (mind-altering) chemical that causes euphoric and intoxicating effects on the user and is the key substance that differentiates Marijuana from Hemp.
Under the Controlled Substances Act (CSA) of 1970, Marijuana is identified by its chemical formula, and is currently classified as a nonpharmaceutical recreational drug. Marijuana is still treated as a controlled substance and is therefore illegal to possess, sell or use under federal law. However, many states have passed laws decriminalizing some or all marijuana use. (see Marijuana Policy Gap)

Conclusion:
Because of the unique differences hemp and marijuana have to each other, it is important to gain more knowledge and insight of how they relate to Cannabis industry. Here at Smokers Discounts, you can you legally buy CBD hemp cigarettes online and have them shipped right to your front door. We advise you to check with your local state government to find out what the legal requirements are to use Hemp and CBD products. Understand what your rights are to avoid any legal issues that may occur.